Better Beauty
What Makes a Salon a "Safer" Salon Anyway?
4.20.21
By Martha Lynn Kale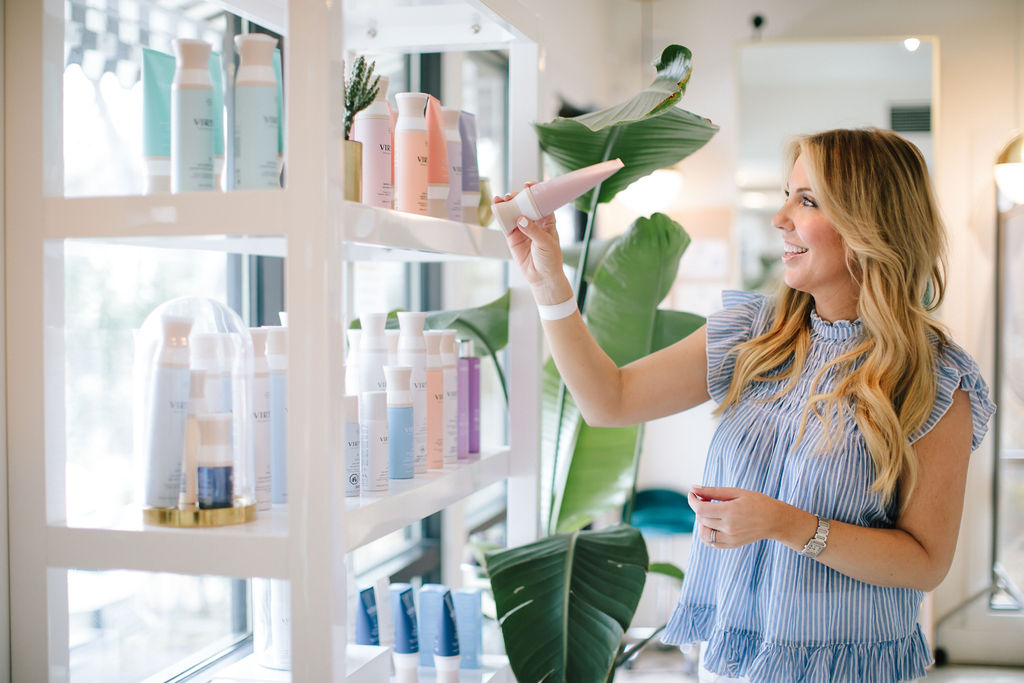 While health and safety is on top of everyone's mind more than ever these days, my mission to create a comfortable, safe, and environmentally friendly salon - without sacrificing quality - began many years ago.
Not only am I the founder and owner of Mirror Mirror and a former Stylist, I am also a wife, Mom and clean beauty advocate. I wear a lot of hats and I'm always looking for what's best for my family, my team and our guests at Mirror Mirror.
I've been in the beauty industry for well over a decade and I've always been fascinated by the technical side of our industry.  What can we do to hair and for hair to give us and our guests the hair they've always dreamed of. I lived for performance and I wanted to have the best of the best!  Up until about 2017 I was completely happy helping clients and followers find the best products that would solve their hair woes. What I had naively ignored was what was IN those products and what was driving their performance. I thought expensive and salon quality meant safe…and boy was I wrong.  Around that time I learned about the grossly unregulated side of the beauty industry.  I learned that unlike food, the FDA did not regulate use of the terms "clean, safe, or natural" and that the beauty industry was actually quite "dirty" when you pull back the curtain.
As a salon owner and beauty influencer I felt duped.  How could I know so much about an industry and yet not realize that the career I knew and loved could also be contributing to making people (and myself) sick. The average consumer is exposed for sure but hair stylists in particular are working in it and breathing toxic chemicals day in and day out. Sadly, hair stylists have the highest rate of miscarriage of any profession.  They also have high rates of cancer, mental health illnesses and thyroid and other endocrine disorders. 
I saw a huge problem.
I set out to try and find ways to clean up our salon without sacrificing the quality of work we were putting out for our clients. For example, we are a blonde factory at Mirror Mirror - it's highly unlikely we could do away with the bleach (or as us hair stylists call it "lightener") so the bleach stays.
What we can do is use techniques that allow clients to go longer between visits and therefore lessening their exposures to the chemicals. We can wear gloves while we use the chemicals and we can increase the circulation of the air around us while we perform these services.
We started with baby steps and cleaned up things that didn't affect the hair we do. We switched our cleaning products to Puracy (a clean personal care line) and did away with toxic candles. We added Molekule air filters, added more live plants, and tried to open our doors to clean up the air we breathe. We installed an Aquasana water filtration system so we could provide the cleanest water to drink to our team and our guests.
We added cleaner offerings for hair color as well like O+M and added the product line Oway which is a great clean option for clients looking for safer shampoos, conditioners and styling products! We installed an Aquasana water filtration system and added to our collection of live plants throughout the salon.
We banned Brazillian blowouts and similar services. They contain the ingredient methylene glycol which converts to formaldehyde when applied to heat such as a flat iron or blow dryer and it's a known carcinogen.
While we were cleaning up all of these areas of the salon, focusing on sustainability became increasingly important to us.  We partnered with Green Circle and are now able to recycle all the foils we use and hair we cut as well as properly dispose of our leftover chemicals. The beauty industry sends 877 pounds of waste every minute and now along with all of the Green Circle Salon we can divert some of that waste out of landfills.
The beauty industry is shifting. Consumers are becoming more aware of what goes on their bodies as much as what goes in their bodies.  Lawmakers are taking note.  While we have a long way to go, I am so proud of the progress we have made at Mirror Mirror and that we are a leader in this movement.  We will keep asking the hard questions and pushing for safer options - while keeping your hair looking gorgeous of course. 
We want you to love what you see in the mirror AND be confident that we are doing everything we can to keep you safe while in our salon and at home!