Highlight Experts in Austin
Mirror Mirror stylists are known for creating gorgeous dimensional highlights, while protecting and nourishing your hair.
Book Now
How to Get Perfect Highlights
Great hair is a process. Here's how we do it.
Book My Consult
Consultation
Meet us in person and tell us where you want to take your hair. Together, we'll make a plan to get there.
Session(s)
Your hair journey might require a corrective multi-session process, a single appointment, or somewhere in between.
Maintenance
Set up a schedule with your stylist to come back for routine touch-ups that keep your highlights fresh and beautiful.
Book My Consult
Highlight Techniques 101
Great highlights are a balance of art and technique, and stylists are constantly finding new ways to create fresh, dimensional color. That said, there are a few basic techniques used in all salons.
Mirror Mirror Highlights
Highlights come in three appointment types based on where you are at on your hair journey. Your stylist will let you know what to book and give you a cost estimate. Pricing does vary by stylist and the amount of product (color) needed for your hair.
Full Highlight
This all-over, root-to-end session is often the initial (and most intensive) session on your hair journey.
Partial Highlight
Medium in scale, the partial highlight is typically a 3 – 6 month maintenance session.
Mini Highlight
Small and refreshing, the mini is perfect for a touch-up and a good substitute when you're pressed for time.
Trends in Highlights
Learn all about the latest looks. Always consult your stylist to customize the perfect highlights for your hair.
Babylights
Very fine highlights that create a subtle sun-kissed look that's similar to the natural highlights in children's hair.
Balayage
The word is French and means "to sweep." Highlights are hand-painted on in a sweeping motion, adding a natural dimensional color to your hair.
Color Corrections
Think of it as transitioning your hair from where it was at your old salon to where you want it to be at Mirror Mirror. There may be sections that need adjusting (or correcting) and it may require many different techniques to get you there. To protect your hair, it has to be done in phases, slowly bringing your hair back to the right shade.
Dimensional
A technique in highlighting of using contrasting light/dark shades throughout the hair to create dimension. To all you blondes out there, don't be afraid of some dimension. Gone are the days of stripey 90's highlights - today's dimension adds depth and helps your blonde pieces pop!
Fashion Color
Fun, loud, and non-natural hair colors (pink, blue, green, orange, and so on) that really pop!
Lived-in
A technique that blends highlighting and color that makes it easy to grow out naturally. It's easy to maintain and dress up or down.
Mini
Sometimes called a "spill", this is a short highlight session where a few highlights are placed around the face, on your part or strategically throughout your hair. Great for in between bigger visits or if you are pressed for time!
Root Smudging
A technique that creates a seamless blend from root through highlight by smudging a darker color (similar to your natural shade) at your roots. It's great for low-maintenance grow outs and ALL of our highlight services include rooting in some form or fashion!
Single Process Color
A one-step coloring process that involves using only a single color applied at the roots (think grey touch ups) or from roots to ends.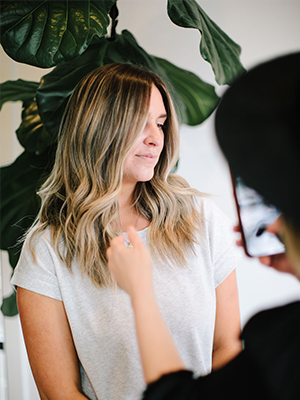 She'll Love it
Treat the women in your life to a Mirror Mirror gift card. Valid for Mirror Mirror products and services in the salon.
Buy Now
Frequently asked questions
How do I know which highlight service to book?
+
What is the difference in a full, partial, or mini highlight?
+
Is balayage right for me?
+
My stylist told me it's going to take several sessions to get what I want — why can't we do it in one day?
+
My stylist mentioned low lights —I don't want to look "stripey".
+
Do highlights require a lot of maintenance?
+
How should I care for my highlighted hair?
+